What is etzComply and how does it work?
etzComply Document Management is a bolt-on system that integrates with our Timesheet Solution.  It allows you to create and manage your documents and contracts easily, issue them to recipients for signature or upload, track and monitor them as well as store them on a central repository for easy reference and retrieval.
Documents Types can be created to represent the various types of documents and contracts you are required to produce or obtain from Clients, Suppliers and Candidates alike. 
Document Types can be Signing or Upload, so a Signing document might be a supplier-self billing agreement for example that you wish to issue to a supplier for signature and an Upload document is essential a document request that you would issue to a recipient for them to upload a document that you require, such as a VAT Certificate.
Signing types of documents can be created from templates which are created using Microsoft Word with variable fields extracted from Etz, so it is simply a case of attaching a document to a main entity on Etz, the template will then merge to create a document which you then issue to the entity recipient for them to sign.
Here is an example of the Document Types area within Document Management:
Here you can see each document type is Attached To the entity it relates to on Etz, as well as the Action By stating who is required to action the document, i.e. Sign or Upload it.
When your Document Types have been created on Etz, you are ready to start assigning them to individual records as follows:
This example shows a Supplier Self-Billing Agreement that has been applied to a Supplier Entry record but has not yet been issued for signature (as the Status indicator is blue to show it has been initialized but not sent). 
The document can be issued to a recipient - so in this case a Supplier User - via three different notification options: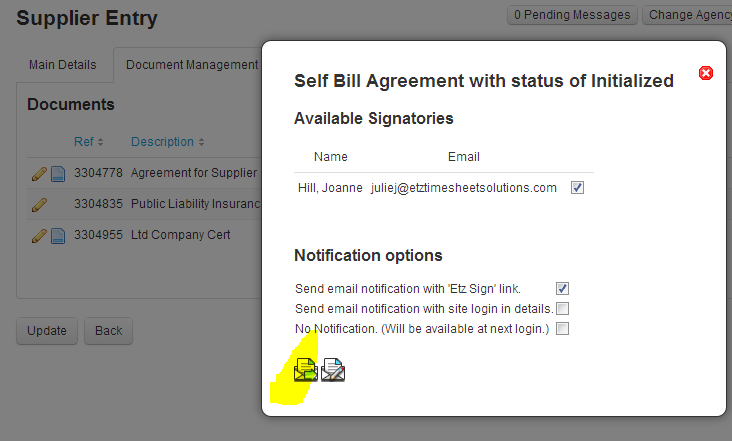 When issued the document status changes to amber to indicate the document has been sent:
This example shows a document being sent for signature via an Etz Sign link: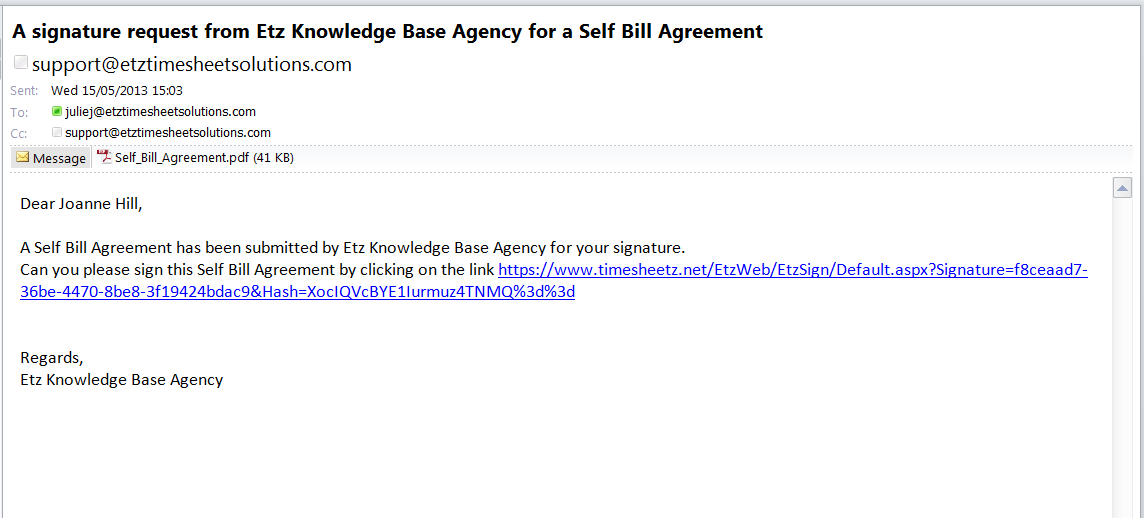 When the recipient clicks the link they will be able to view the document and sign (or reject it) in the same way timesheets are electronically signed:
The document will then take on a Signed status:
There is a Document Reminders option too where you can issue reminders to recipients who have not yet actioned their document request(s), as well as a Document Status report which enables you to see which documents are outstanding and a Documents Expiring report which highlights when document are due to expire:

For more information or a demonstration on Document Management will log a Support ticket or contact our sales team on sales@etztimesheetsolutions.com