How can I ensure all sales invoices produced for a particular client have Purchase Orders on them?
If it is essential that all sales invoices detail a PO on them the best way to achieve this is to ensure the Client Entry record has the Must Invoice with a Purchase Order option checked:

Also ensure the relevant Purchase Order is set on the Main Details page of the Assignment Entry if the same PO is relevant for the duration of the assignment (as this will ensure all timesheets generated from the assignment already have the PO on them).  If the PO is subject to change then if it fine to leave the PO field blank on the Assignment Entry, as long as the Client Entry is set to Must invoice with a PO.
If timesheets are validated without a PO on them they will be flagged at the Create Sales Invoice stage like this:
The system will not allow invoices to be raised until the timesheet(s) is given a PO.  This can be done at this stage by clicking the Items link (so in the example above, Smith Technologies has '1' item waiting to be invoiced) and drilling down to the timesheets:
Click the pencil to edit the timesheet, then select the relevant Purchase Order from the list (you must ensure it exists first - if not you will need to create the PO in the Purchase Order Entry area in the Reference Data menu).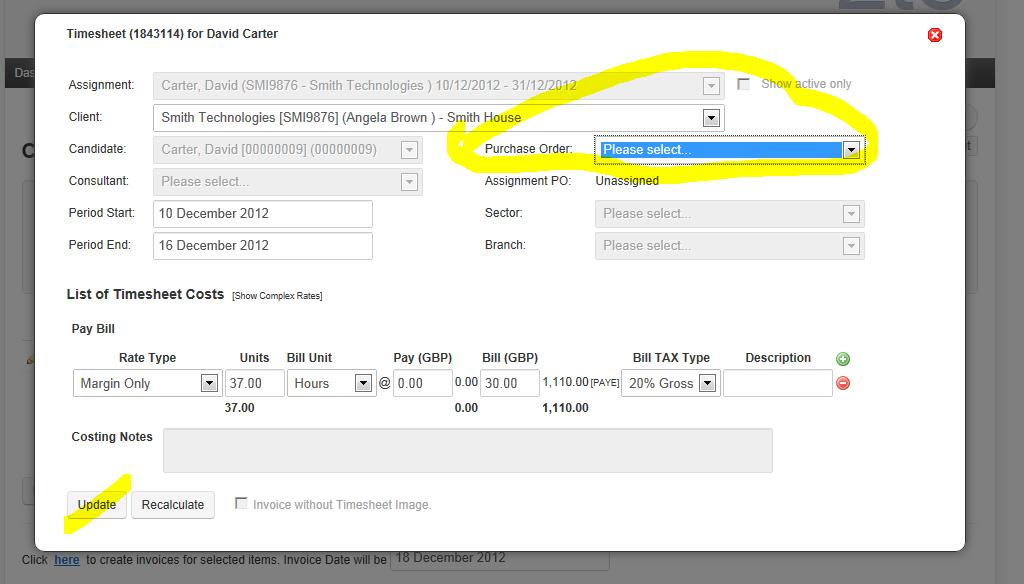 Click Update to save the PO and the system will revert back to the previous screen where the selected PO is now visible against the timesheet: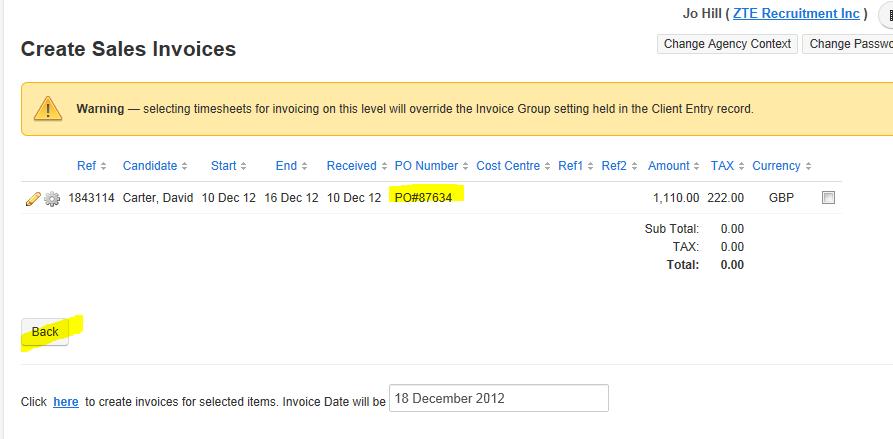 Click Back to return to the main Create Sales Invoice screen, where the system will now allow the timesheet to be invoiced.