What are System Templates
System Templates are an area of the system where users can view, edit or create new Templates for Invoices, Pay Invoices, Permanent Invoices, Expense Sheets and Timesheets.
Currently Timesheets and Expense Sheet templates are not available.
We have a range of Default System Templates, which everyone can see and use, but an Agency also has the ability to upload their own Word Documents to use as their own templates.
Agency wide Default Templates can be set, like they used to be, from Agency Details. You will notice there are 5 drop down boxes in the Agency Details page, like below.
Agency Details
These are the Templates that will be used across the system unless, a specific Invoice or Permanent Invoice Template is set in Client Entry, or a Pay Invoice Template is set in Supplier Entry.
The drop down menus will only show all the System Wide Templates and any Custom Templates that have been Approved for that type.
Default Template = Template selected in Agency Details
Client Entry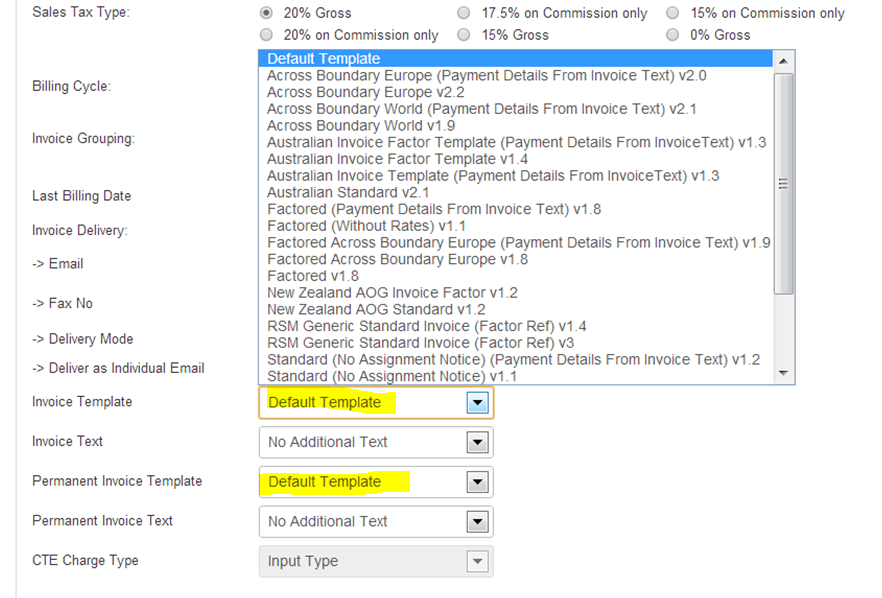 Supplier Entry
HMRC Compliant
All of our invoice style sheets are compliant with HMRC guidelines which can viewed on this link http://www.hmrc.gov.uk/vat/managing/charging/vat-invoices.htm
All European invoices also pick up the Sales Tax disclaimer which is stored within the Agency Details page: