I have a candidate who is on a daily rate but is paid overtime after they have worked a number of hours
Entering overtime - Where the unit time is in days but the overtime is applied after the candidate has worked a number of hours.
Firstly you must have an overtime rate code with the Rate Type of - Overtime Rate (Hours)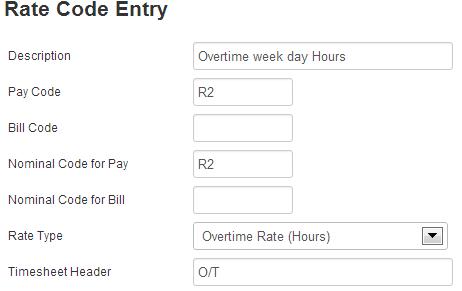 On the assignment set the costing for the daily rates as normal and then for the overtime makesure the Rate Rule is set to Overtime Hourly Rate per Day and set the rate code to the overtime rate you have set up above.
Also enter the numnber of hours the candidate must work before the overtime is calculated in the apply after (10) totals hours per period
On the main details of the assignment you must tick the Detailed - Allow the candidate to enter detailed units of their working hours to enable the candidate to enter the time worked so the system can calculate the overtime worked.
The candidate will be requested to enter the Start  and end time and the break time but also they will be required to also complete the number of days worked.
Once the number of hours have exceded the the linime entered above (10 hours) the system will then calculate this as the overtime.
The candidate portal will show the following:
and the timesheet will show the following showing 2 hours of overtime worked on Monday:
Then the timesheet costs will appear on the validation as follows: