How to add an assignment - Categories tab
This is the third tutorial in a series of four guiding you through the creation of an assignment on the Etz system, and deals with the 'Categories' tab.
Categories can be applied to assignments for two primary purposes:
- in order to facilitate the generation and analysis of reports.
- to register a consultant (or consultants) to the assignment for commission tracking purposes.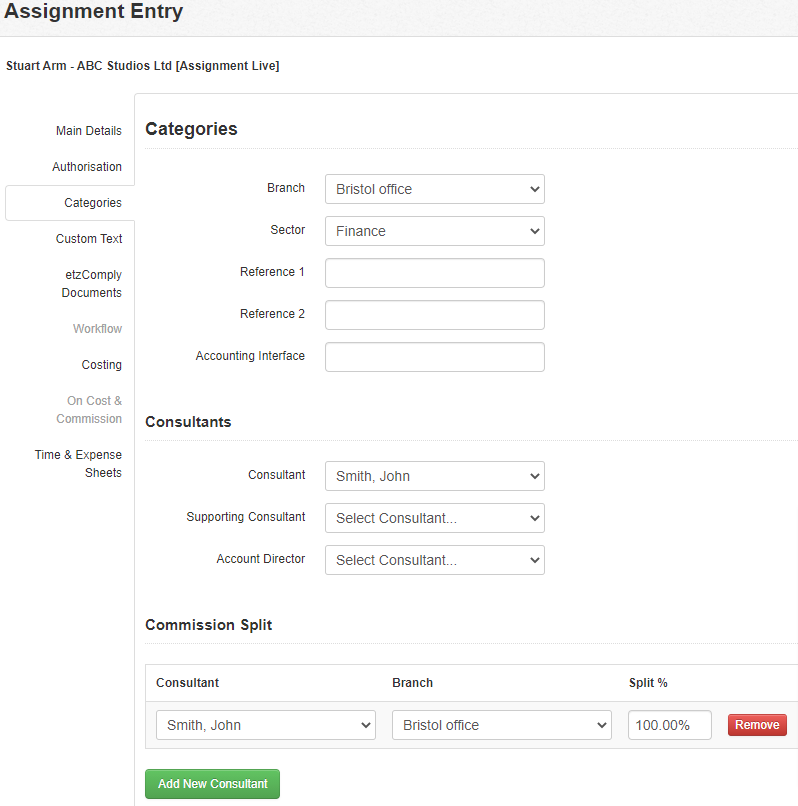 The fields of note within this section are:
Branch: can link the assignment to a branch set up within the 'Branch Entry' section. For more information on adding branches (and categories), please read the article Where do I create Branches or Sectors and other analysis categories on Etz.
Sector: similarly, can link the assignment to existing sectors. Several sectors can be added, drawing from the entries within the 'Sector Entry' section and from the list of categories defined within 'Assignment Categories'.
Accounting Interface: if you are using non-standard general ledger codes, you will need to enter these here. Failing to do this will result in your data not being properly linked to your accounts package. Multiple values should be comma separated. For further details, please check out the article Where are the accounts nominal coding stored in Etz.
Consultant: allows you to select the primary consultant associated with the assignment from the drop down list of consultants entered into the system.
Supporting Consultant: additionally, there is the option to add a supporting consultant.
Account Director: link the assignment to a consultant user who is the director for this account.
Commission Split: this allows you to split the commission between consultants on the assignment. You can add multiple candidates and choose the commission split between them (with splits summing up to 100%). These stats will show up in the commission report.
Once you have finished entering information, click 'Update' to save the information or move on to complete the Costing tab, explained in the following article, How to add an Assignment - Costings tab.