Is it possible to create extra timesheets on an assignment?
Is it possible to create extra timesheets on an assignment? Yes, additional timesheets can be create in two ways, via the Create a Candidate Timesheet option or from within the Incoming Images area, both within the Timesheet menu. The Create a Candidate Timesheet option is more pro-active and is suitable if you wish to create an extra timesheet for the candidate to select and submit from their portal, whereas the add timesheet option within the Incoming Images is more reactive, so great if you need to add an extra timesheet and validate it at the same time - so you already have an image for example.
To Create a Candidate Timesheet you simply select the assignment to add the timesheet to, set the Start and End date range for the timesheet, along with any changes to the rate arrangements (the system will add in rates based on the Assignment you have selected):
Click Create the save the new timesheet and the following screen will be displayed: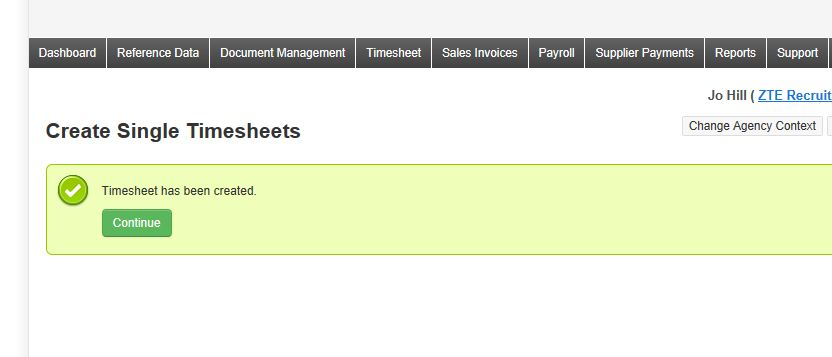 If you look at the timesheets for this candidate from the Timesheet Display option you will see the system has created it and it will also be visible from the Timesheet tab of the assignment. The timesheet will be available on the candidate's portal, the same as a system-generated one. The Incoming Images create a timesheet option has the same end result as the one above, but because of its' location this more suited to creating and validating in one go. For more information on this please refer to the associated article on the 'Related 'tab of this article.