I have created an assignment with the wrong start date - is it possible to change it?
If the Assignment is new and there has not yet been any timesheet activity (so all timesheets are still Open) it is possible to reset the start date by using the Clear Timesheets option within the Main Details page of the Assignment Entry, changing the Start Date and the Timesheet Start Date, then updating the Assignment:

This will clear down any previously generated timesheets and new timesheets will be created based on the new start date. If however timesheet activity has already begun it will not be possible to clear and reset, so it is a case of manually creating any additional timesheets you may require and cancelling off any that are not needed. Additional timesheets can be added using the Create a Candidate Timesheet option within the Timesheet menu or within the Incoming Images area by clicking the plus icon - this example shows the Create a Candidate Timesheet option: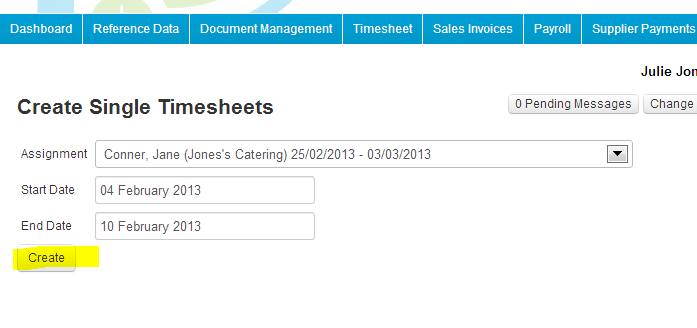 You will need to select the correct assignment from the list then enter the start and end dates you require for each additional timesheet, clicking Create to generate the timesheet. It is perfectly fine to create timesheets with earlier dates - the system will still tag them onto the assignment for you. Once generated these additional timesheets behave exactly the same as a system generated one.