Document Packages
Within the Document Management module we have now introduced a new option of Document Packages. This will allow Template documents currently stored in etz to be grouped together as a package and then assigned to an entity.
One of the advantages of the Document Packages is the automated workflow. The system will automatically add all the documents in the package to the entity and deliver all the emails to the recipient.
To access this option, click the Document Packages option on the etzComply drop down menu.
Here, you will see a list of current packages. Click Add New to create a new package.
Document Packages
Document Packages have a Package Title, an Agency Ref and are attached to specific entities. Once these values are applied, click Continue.
Select the documents you would like included in the package and the notification type. To include a document, select it in the Available Documents box and the left and click the Add Document button. If you select Email, the recipient will receive a notification email for each of the documents in the package.
Once all documents have been added, click the Save Document Package button.
Please be aware if you have documents within the package which have a status of 'Uploading', the etzSign-style notification email will not be sent, which would allow them to sign the document directly from the email. We suggest you use the Notification Types of None (the document will be available when they next login) or Online (an email requesting the user to login).
Adding a package to an Entity
To add a Document Package to an entity, go to that specific entity record on the appropriate screen. For example, to add a package to an assignment, find and select that specific assignment and open the etzComply Documents tab. From there, select Add Documents from a Package.
Then select the package you want and the name of the person who is required to action the documents within the package.
*Note* This step may take up to a couple of minutes. Please do not select the package again before it appears as this will create duplicates. The message below will appear on your screen as soon as you click Raise Document Package.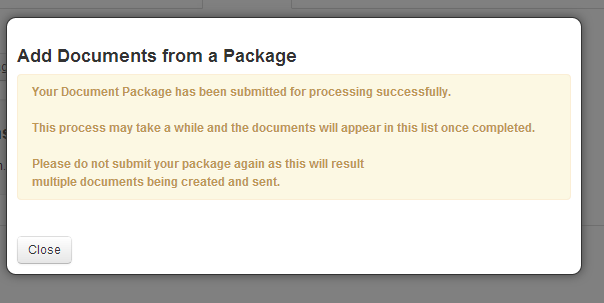 Each document will appear in the list and the workflow process will have already been completed, including notifications being sent.

Recipient's portal
In the recipient's portal, they will see all of the documents which are waiting to be actioned.