Single Line on Timesheet Expenses
If you do not have the Detailed Expense option then you really have two options available in terms of how you process them on etz, (1) candidate entered or (2) you add them on to the timesheet yourselves as and when they come in.
1 . Candidate Entered Expenses
The candidate has an option to log an expense value on their timesheet from their portal and the system will add an Expense line onto the timesheet. Therefore, the Rate Code line will be on there already when it comes back in for validation. This is good if the candidate has an agreement on their contract for them to be reimbursed for expenses and the client is expecting for this to be the case. The candidate will also be able to upload and attach any supporting documentation, such as receipts, so that they are available to you and your clients for approval. You do not need to enter a Rate Code line for the expense onto their assignment costing page as the system will do this for you. But you must have a rate code set up on the Expense Code Entry screen in order for expenses to be linked to your candidate's timesheets.
To use this option you must set it on the Main Details tab of their assignment as Single Line on Timesheet:
The Candidate will then submit their timesheet as follows, which will also allow them to add the expense using the Add Expenses option. Once their expenses have been added, they will be able to upload and attach any receipts or supporting documentation:
The expense will then show on the timesheet with all of the supporting documents attached: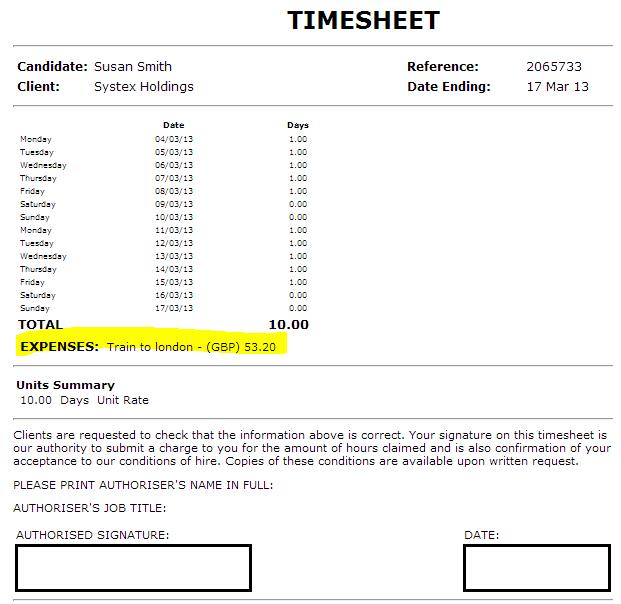 2 - Adding to Timesheet when validating
This option is best suited for more random, ad-hoc receipts. You do not need to add this on to the Costing page, but simply add it on to the timesheet if the candidate submits them to you, and you do this at the point of validation or afterwards (but prior to invoicing/payment).