Is it possible to reset a timesheet status/submit to a different authoriser?
The status on a timesheet can be reset for a variety of reasons. If, for example, a candidate has submitted a timesheet via the Faxback method (so the status of the timesheet is 'Waiting for Image"') and wishes to submit via another method such as Etzsign, Or they wish to change the authoriser. The candidate can select the timesheet on their portal in order to Reopen it - they do this by selecting the timesheet:
When clicking the Re-open timesheet option they will then get a message like this one to which they will need to click Yes – please continue in order to proceed to Re-open the timesheet:
They will then be able to amend their units on the timesheet and resubmit for authorisation as required:
To change the authoriser select to Submit this timesheet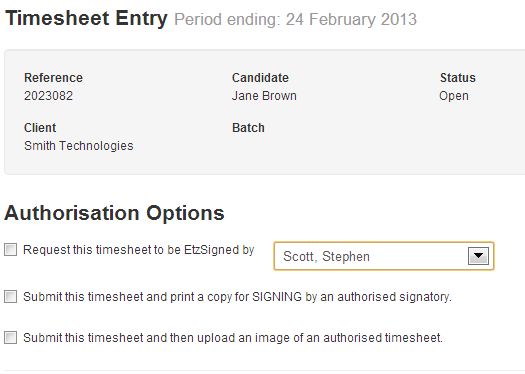 And choose the new authoriser Admin users can also Re-open timesheets as required from various places within the system such as Timesheet Display, Assignment Entry and Incoming Images.