How do Client Billing Cycles and Invoice Grouping options work with Assignment timesheet template cycles?
Within the Client Entry we have a variety of settings to do with how frequently you wish to bill the client (Billing Cycles) and how you wish the system to compile their invoices (Invoice Grouping).
The Billing Cycle should be used as a filtering tool when you get to the create Sales Invoices area and are ready to produce invoice - from this you can see when you should produce the invoices: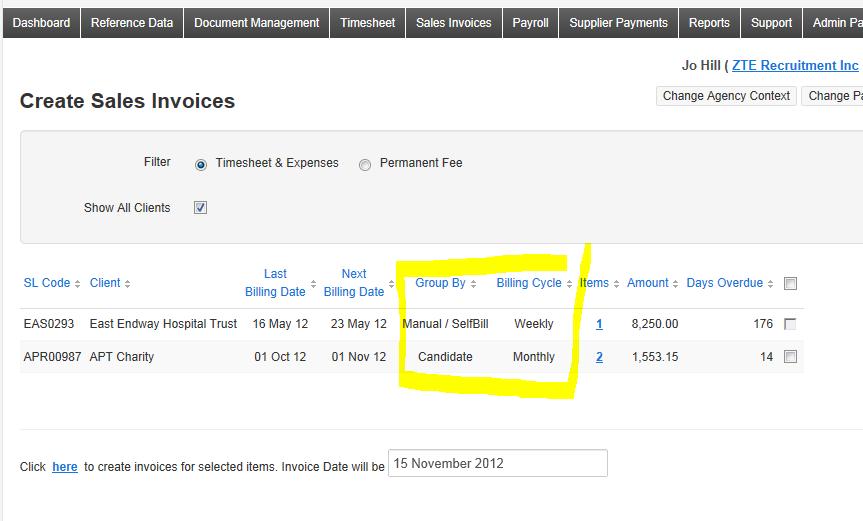 However you must remember that the Billing Cycle is purely for your information; the system will quite happily produce invoices for a client set to a Monthly Billing Cycle in the middle of the month if you click and select that client mid-month.  Therefore it is important to understand it is entirely driven by you, the user, and you must produce the invoices at the right time for your process.
The Invoice Grouping option instructs the system how to compile the invoice, so per candidate or per timesheet for example.  You can override this setting if you wish by clicking into the number of 'items' building up for billing against a client and choosing which timesheets you wish to appear on an invoice and creating them from that level.  Indeed this is how it works with the Manual/Self Bill Invoice Grouping option - you control which timesheets go on each invoice by doing this manually.
Your timesheet cycles play a big part in how you invoice too.  For a client with a Monthly Billing Cycle and an Invoice Grouping of Timesheet for example, you may have a weekly timesheet template in place on the assignment for that client which means in any monthly period you may have 4 or 5 timesheets to bill, depending on how those timesheets fall within that period.  With a grouping of Timesheet you would still get 4 or 5 separate invoices even with a monthly Billing Cycle.
Likewise if you had an assignment with a monthly timesheet template for a client that was set to a Billing Cycle of Weekly, you would only get one invoice at the end of the month as it is not possible to split a timesheet over several invoices.
Based on that it is always best to work within the smallest increment required and this is usually the timesheet cycle.  By setting the timesheet to suit the smallest increment you have more control over how frequently you can produce invoices for that client.