Step 6 - Completing the etzComply Documents Process
Setting a Document as Signed
When a document has been uploaded by a recipient it will take on a status of 'Awaiting Approval' until it has been set as signed by the administrator.
The Document Status report should be used to identify which documents are awaiting approval and these documents must be set as signed from the entity they are attached to – this example shows a document that is attached to the Supplier entity that has been uploaded by the recipient.

The status indicator is red to show the document requires attention and the hover-over help when you point at the indicator will state that a document has been uploaded.
To approve the document, click on the Manage Workflow icon and click the Set as Signed icon as follows: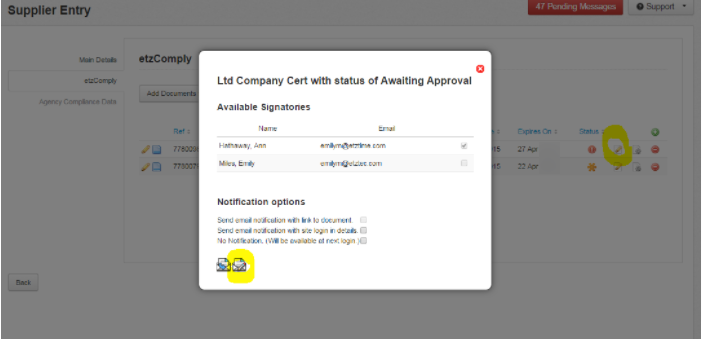 The status indicator will then change to green to show the document has been signed:

Overriding the Signing Process
Documents can be set as signed and approved before the process is completed, for example when a recipient has manually signed a document and returned it to you via the post.
Before setting a document as signed in this instance you may wish to overwrite the original document with a later version of the actual document that has been returned to you and we do this by clicking the Select icon as follows and uploading the new document:
The document can then be set as signed by clicking the Manage Workflow icon:
Please note that once a document has been set as Signed it cannot be updated.