Client Guide to Online Sign
Once you have followed the steps in the email to create your ETZ identity, you will be taken to the Authorise Timesheets screen.
To authorise multiple time and/or expense sheets at the same time, simply tick the box to the right of each sheet and click the Authorise selected timesheets button. To select all time and expense sheets, tick the box at the top of the sheet list. This will allow you to authorise all of the sheets listed at once.
Next to each timesheet form, there is a pencil icon. This will open the item and enable you to authorise or reject from there. You will also be able to add notes to the timesheet for future reference.
The paper icon allows you to open and view the timesheet image itself.
The timesheet will have a summary for each day, and in the Units Summary section a breakdown for the week. Please ensure that you are satisfied with the details of the timesheet, as this will directly affect how your company is invoiced.
REJECTING A TIMESHEET OR EXPENSE
If you do not agree with the breakdown of days/hours submitted, you are able to reject the timesheet giving your reason for rejection. Simply click Reject the current timesheet at the bottom of the page.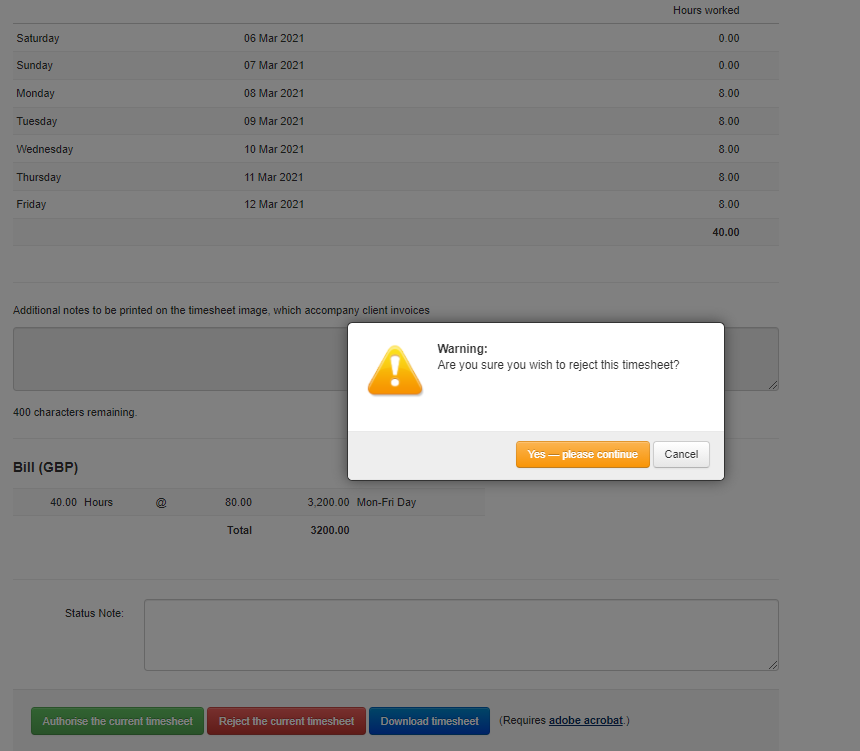 You will be presented with the following prompt.
Click Yes – please continue to confirm that you wish to reject this timesheet. The worker will then receive notification via e-mail that the item has been rejected and they will then be able to amend and resubmit.
Once you are happy with the candidates hours you need to click the Authorise the current timesheet, this will then notify the candidate by email it has been approved and also then send over the the agency to process.